Often, we are being bombarded by pictures of animals in cages and asked to contribute to their welfare.  My heart hurts because of them, but I have tremendous angst about the mistreatment of children.
There is an unspeakable , horrible cruelty that is happening. I don't use politics to tell you about it. If you have a child if you love a child, you will understand. If you remember your own childhood , it will make you think.
In the past, we know that there have been 2 deaths. The director of Homeland Security says in an article that the open borders are the cause.
As human rights groups, Democratic lawmakers, and the United Nations demanded an independent probe into the deaths of two Guatemalan children in U.S. Border Patrol custody, President Donald Trump's Homeland Security Secretary Kirstjen Nielsen sparked outrage on Wednesday by declaring that "open borders" advocates and the kids' "own parents" must bear the blame.
As a child when I read about the Holocaust, I could not believe that no one did anything. As an adult now I read about these children and I wonder why we are doing nothing.
Well, nothing enough  to stop it.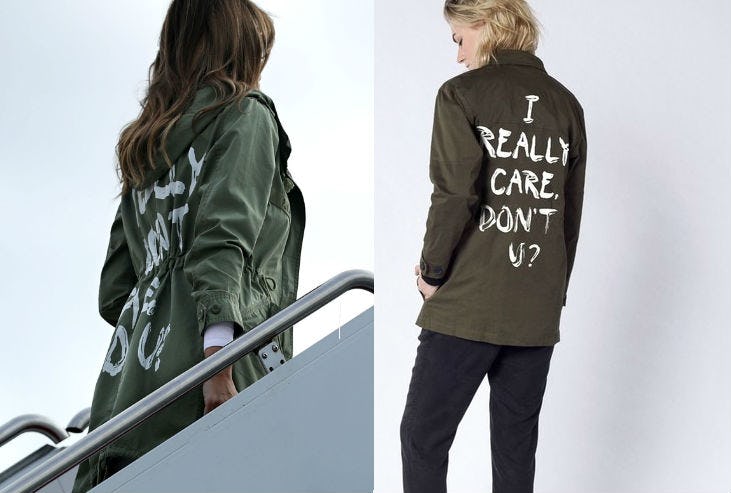 There are powerful people in Washington.They could change this.
Powerful people have children. They understand, or do they?
The First Lady seemed to be interested. After all, she is a mother. She is an immigrant. Her perspective is hard to tell. Nor do I understand the message on the jacket that she wore to a detention center.
We are mystified by her actions, but she did visit.
What is going on with migrant children is variable and we don't know all of the stories.

Here is a new story, a new twist.
It is more than frightening.
U.S. Customs and Border Protection detained a 9-year-old U.S. citizen for more than 30 hours this week, then refused to explain why it took so long to verify her identity.
Thelma Galaxia and her children, 9-year-old Julia Isabel Amparo Medina and 14-year-old Oscar Amparo Medina, live in Tijuana, Mexico. Julia and Oscar are U.S. citizens, though, and they attend school in San Diego. One of Galaxia's friends drove Julia, Oscar, and her own children to the border so they could get to school on Monday, but decided it would be quicker for them to cross the border on foot due to traffic.
That's where Julia ran into trouble. While she has a passport card, the picture on it was taken when she was younger. Customs agents believed she was impersonating her cousin, Galaxia tells KNSD. The agents also accused Oscar of smuggling, the children say.

Here is the article from Time Magazine.

The care and treatment of children? What is going on?
You remember the old stories written about here.
Reporters and Democratic lawmakers have been allowed inside a detention center that lies at the heart of a growing storm over a new US policy separating migrant children from their parents.
Authorities did not allow photos or videos to be taken inside the center, but US Customs and Border Protection later released several images.
Nearly 60 miles away, in the town of Brownsville, some 1,500 boys are being housed inside a building that was once a Walmart superstore. The boys, aged 10 to 17, were all caught illegally crossing the border. It is America's largest facility for such minors, and numbers have increased in the past month by several hundred.
There are supposed to be tender aged shelters.
https://apnews.com/dc0c9a5134d14862ba7c7ad9a811160e/gallery/media:f93054354a7f40ea91f54089bc18fd42
Lawyers and medical providers who have visited the Rio Grande Valley shelters described play rooms of crying preschool-age children in crisis. The government also plans to open a fourth shelter to house hundreds of young migrant children in Houston.
The stories seem to have disappeared from the news until two children died.
Two children have died in government custody in recent weeks after crossing the border into the U.S., prompting renewed scrutiny of the Trump administration's treatment of immigrants.
Jakelin Caal, 7, died earlier this month from dehydration and shock after being detained with her father after they crossed the border illegally. Attorneys for her family said she did not receive water for hours, but had been in good health earlier in her journey.
Felipe Gomez Alonzo, 8, died last week after being hospitalized in New Mexico with flu-like symptoms, high fever and vomiting. He had been detained with his father after crossing into the U.S. without documentation. The Article from the Hill
McAleenan also said on ABC that a "multi-faceted" approach is needed to address broader immigration issues.
"We need a sober-minded, nonpartisan look at our immigration laws to really confront and grapple with the fact that children and families are coming into this cycle, that's first and foremost," he continued.
"We also need to invest in Central America. The State Department's announcement of an unprecedented increase in aid, I think, is a tremendous step forwards."
Former First Lady Laura Bush has compared it to the internment camps used for Japanese-Americans during World War Two. A Democratic congressman who visited the site said it was "nothing short of a prison".
The Texas facility is known as Ursula, though immigrants are reportedly calling it La Perrera – dog kennel in Spanish – in reference to the cages used to hold children and adults who have ended up there after crossing the border from Mexico illegally.
"One cage had 20 children inside. Scattered about are bottles of water, bags of chips [crisps] and large foil sheets intended to serve as blankets," the Associated Press reports.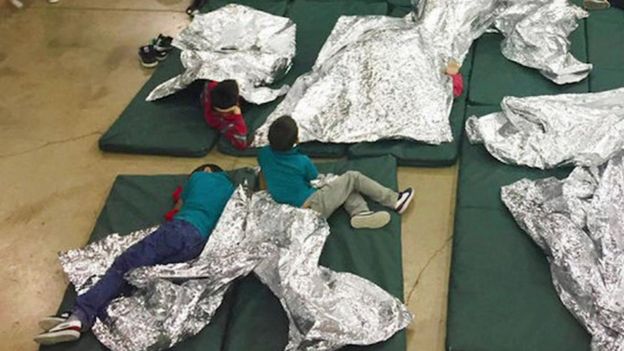 Here is the whole article from the Associated Press and here is a video that talks about us , America as a land of opportunity.
Lieu Refuses Order Not to Play Audio of Child Detainees
Listen to it.