Do you know about this part of the Smithsonian? SERC ? You should!! The Smithsonian Environmental Research Center is near Annapolis, Maryland.
We had a great field trip with kids from the neighborhood of James Creek Southwest DC that was funded by the SWNA Youth Activities Task Force. I can still hear them asking as we left the center , "Can we come back again?"
"Please…please!!"
They had an all day learning adventure!! Leaving ,they had homework.
Students were clutching the cooked crab I had prepared for their at home" Eat-a-Crab" sharing with family. Some homework!!
But let me explain the day!!
I prepared in the usual way with paper resources ,pencils,and maps and folders. I am a STEM advocate but I did not know what the children knew of water study.
I love the inquiry approach to learning and TPack. I was taking an online course from the National Geographic and this was a part of my "Capstone" lesson. My teaching skills and ideas are supported and enhanced by the Smithsonian Environmental Research Center program. No teacher's closet ,or even the Internet can match the vast resources in this learning space. So well thought out and planned.
The kids piled into the van. We were going to learn about the Chesapeake Bay!
We had our water bottles and lunch! Why water bottles? Here's a fun way to learn about getting ready for the trip. Getting ready for a SERC outdoor trip?
We live in Washington, D.C. The Potomac and the Anacostia are two rivers that are a part of the Chesapeake Bay watershed!! We were going to learn about rivers to the sea!!Estuaries. You may want to check the video there.
The staff met us and engaged us as Otters and Eagles in groups.The learning was on from the first moment. My group went to learn about oysters and the oyster reef.
Shoreline Connections
This program can be adapted for a range of ages. It focused on science as narrative, and a collection of facts, procedures, and observations that lead to understanding the world. The guiding question of the trip was, "How do scientists tell the story of clean water, and how do people fit into that story." We focused on science as fact based, though hands-on inquiry at each station.
.

Oysters and Model Oyster Reef Sorting
Students began by exploring the different types of bivalves that live in the Bay, and then learn about how oysters live together and their biological function. They attempted to build a model oyster reef to determine its habitat structure and then sort through a model reef that has been colonized by fish and invertebrates from the Bay. They then sorted the organisms and learn about the role that oysters play in clean water and Bay habitat. pictures here ( a video)I had never done this lesson on the pier.
Seining

Students began by discussing how researchers might study nearshore organisms, and learn how SERC researchers use seining nets to catch fish and invertebrates. They learned the term "biodiversity" and how biodiversity might be an indicator of water's health. They then collected data by donning waders and use seining nets to sample the populations. Students had a short discussion about their findings and what they might mean. They loved this lesson.
Blue Crabs
At this station students were introduced to the anatomy and biology of blue crabs. First, they were asked to draw a blue crab. Then they learned in various stations.
They learned about the natural history of a crabs life, from what they eat to when and where they migrate. Students then visited with live blue crabs and studied their anatomy and movement up close.
Need more?Inquiry-based science is sometimes conflated with "hands-on" science. While we know that actively engaging children with "hands-on" science is important, it isn't enough. Inquiry-based science employs the diverse practices scientists use to study the natural world. A well-designed, inquiry-based curriculum is appropriate for all ages of learners and effectively teaches science content while developing scientific habits of mind at the same time.
SERC Science Saturdays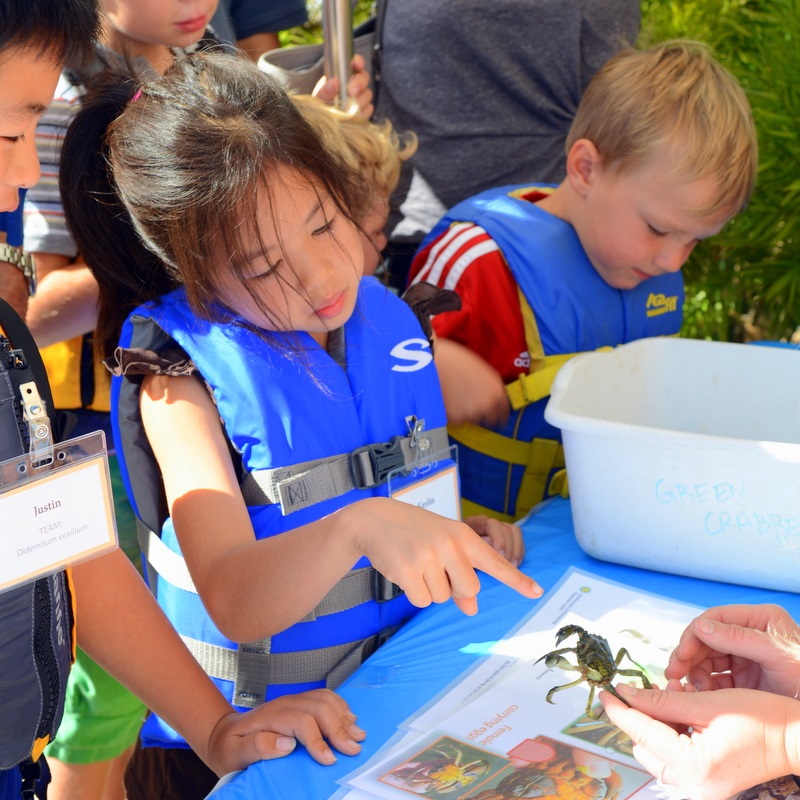 Join SERC for explorations of research with our Science Saturdays.Bring the family for a day of hands-on activities alongside Smithsonian scientists!
https://serc.si.edu/visit-us/serc-science-saturdays
Saturday, June 22, 2019 10am-1pm
Learn about marine biodiversity with marine biologists.
Saturday, Aug. 24, 2019 10am-1pm
Discover how the atmosphere interacts with the land and water.

Saturday, Nov. 2, 2019 10am-1pm
Learn about microbes that are invisible to the naked eye and how DNA is uncovering some of the Bay's greatest secrets.
Cost: FREE and open to all
Location: SERC campus. We'll show you where to park when you get here. Directions can be found on our website.
Bring: No food will be available for purchase, but you are welcome to bring your own lunch or snacks.
We hope to see you all there!
If you have any questions please contact Karen McDonald at mcdonaldk@si.edu or (443) 482-2216.